HVAC Unit Cleaning
Back To Our Services
The units of the heating, ventilation and air conditioning system are responsible for the circulation of air around the house. They are the driving force of the system. That is why they require proper care.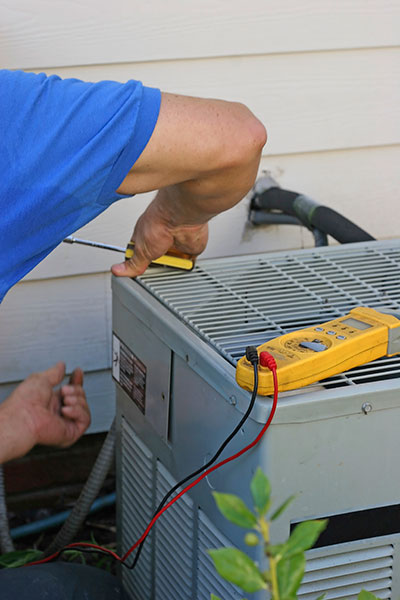 HVAC Maintenance
Both the air filters and the area around the outdoor unit have to be cleaned often. It is important not to let debris accumulate around the condenser unit as they can cause blockage. Annual maintenance typically involves filter replacement and thorough cleaning of the entire system. It is important to select filters that capture the largest possible number of particles and microorganisms. Durability is also something to look for. The motors and compressors of older system require lubrication maintenance as well.
HVAC Unit Cleaning
The first step involves removing all leaves and vegetation around the condenser unit. Then its fins receive thorough cleaning. Sometimes, vacuuming is sufficient while in other cases water spray has to be used. It all depends on the system and its technology, design and age. The blower compartment of the indoor unit should be thoroughly cleaned. This is also applicable to the drain pain. If there are any mold growths, they should be removed with a safe and potent cleaner. If there is a risk of future contamination, sanitizing should help to prevent it.
Air Duct Cleaning
Over time ducts will get covered with dust, dirt and pollen even if the filters work well. The cleaning involves loosening the accumulations and extracting the particles with powerful suction. If there is mold growth on the surfaces, it should be eliminated without delay. A special test will determine the precise type of mold or mildew present. This makes it possible for the best cleaner to be used for removal.
UV Cleansers
Future fungal growth can be inhibited with the use of advanced ultraviolet light cleansers. These devices emit UV light which works to destroy the fungus safely and effectively. It is emitted at specific frequencies so that it can literally break down the spores.
Whether you notice poor air conditioner performance or clear signs of dirt, it is easy to tell when it is time for HVAC unit cleaning. Let us do this job for you to save you time and effort and to give you perfect and long-lasting results. Our company has many years of experience in the industry and works with absolutely all types of HVAC systems and their units. The design, age and brand are irrelevant. The outcome will be perfect and give you a range of great benefits. For the best local service, call us at "Air Duct Cleaning Arcadia" or send an email. Take a look at our website to get more details on our services and on our company.